https://www.austintexas.org/austin-insider-blog/post/fall-bucket-list/
www.austintexas.org
Celebrate fall in Austin with tons of seasonal activities, including pumpkin patches and corn mazes, spooky tours and amazing outdoor adventures in the scenic Texas Hill Country. We have 23 festive fall things to do in Austin to get you started.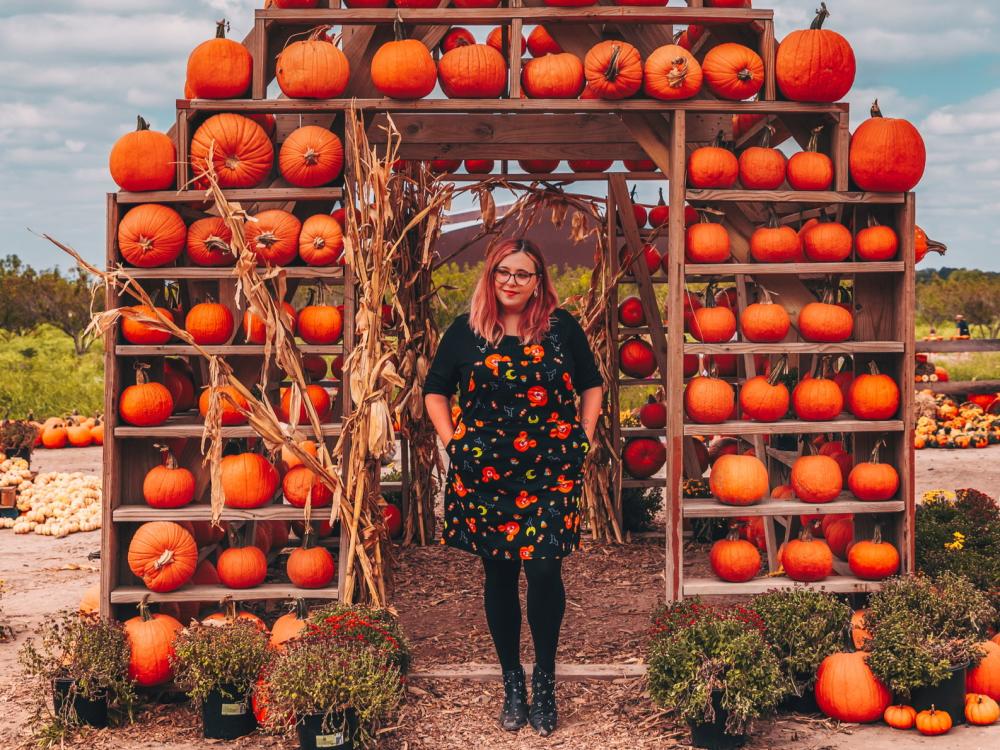 Sweet Eats Fruit Farm. Credit Haley Plotkin.
1. Pick pumpkins and explore a corn maze at local farms.
Head on down to the farm for some old-fashioned harvest fun, such as exploring the five-acre corn maze and feeding the farm animals at Barton Hill Farms in Bastrop (September 23–November 6, select dates); picking your own pumpkins and gourds from the pumpkin patch at Sweet Berry Farm in Marble Falls (starting September 17); or going for a hay ride and meeting the animals at the petting zoo at Georgetown's Sweet Eats Fruit Farm (Starting September 10).
2. Take in fall's splendor on horseback.
Enjoy fall foliage and the quiet charm of the Texas Hill Country with a guided trail ride on horseback with Maverick Horseback Riding in Lockhart or Texas Trail Rides, just outside downtown Austin. Find more info about horseback riding near Austin here.

Courtesy of Banger's Sausage House & Beer Garden.
3. Enjoy beer, brats and bands at Oktoberfest events.
Celebrate Central Texas' German heritage with Oktoberfest beers and bites around the region. Toast the harvest with a stein of bier and a juicy bratwurst in hand at Banger's, their annual Oktoberfest will be held from September 29-October 2. Or visit local Austin breweries like Like Oak Brewing and enjoy a cold Oaktoberfest in the biergarten. For an authentic Central Texas experience, make a day trip to Fredericksburg where you'll find German bakeries, restaurants, breweries and tons of history and charm.
4. Watch a movie under the stars.
Drive over to the Blue Starlite Mini Urban Drive-In, and watch classic and indie flicks on the big screen beneath the night sky. Check out Moonstruck Drive In Cinema at Circuit of the Americas. Travel a little further south to Doc's Drive In Theatre featuring nightly showings, house-made food, and drinks for the adults.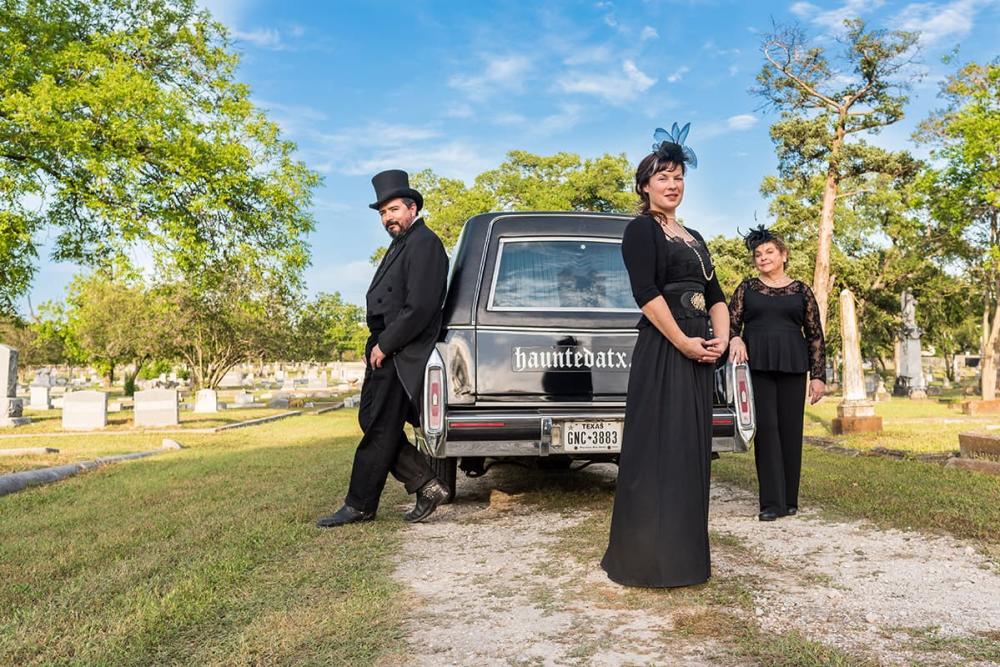 Courtesy of Haunted ATX.
5. Take a haunted tour.
Ride in style with the Haunted ATX Hearse Limo and cruise local landmarks rumored to be inhabited by ghosts. Join a guided walk with Austin Ghost Tours and see some of Austin's most haunted places. Or, attend the free, annual Murder, Mayhem & Misadventure Walking Tour (October 29), at Oakwood Cemetery and learn about the unfortunate demise of some of its locally famous residents, portrayed by actors at actual grave sites.
6. Peruse artwork at the Fall Pecan Festival
Each year, hundreds of makers, crafters and artists take over Austin's Sixth Street Historic District for the annual Fall Pecan Festival (September 17-18). Find local makers and handmade wares, home goods and artwork and the various booths; and listen to local live music with the whole family.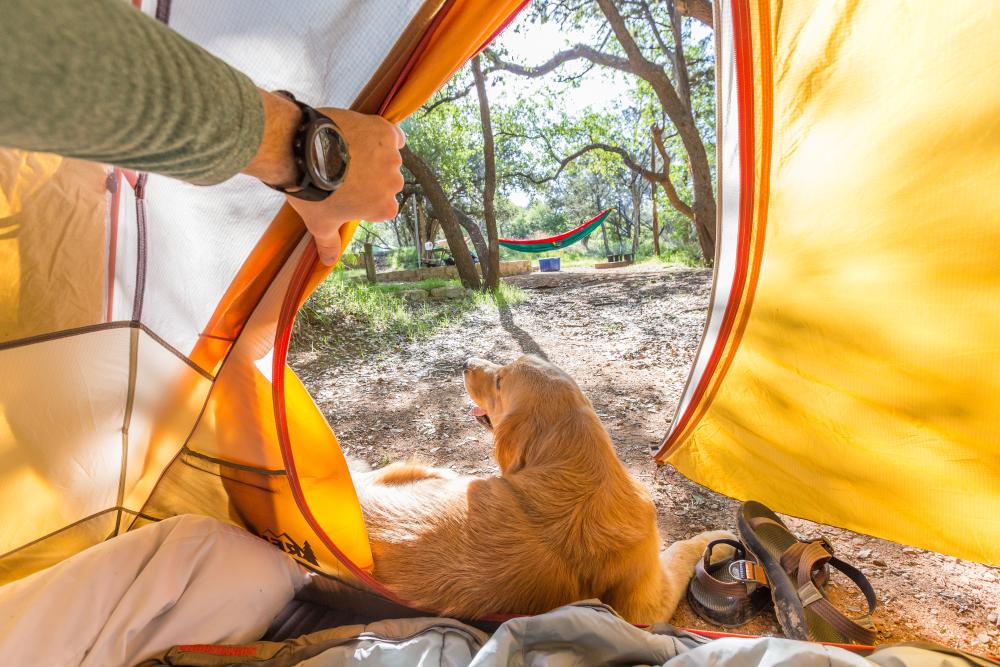 Camping near Austin. Credit Pierce Ingram.
7. Go on a camping adventure.
There's nothing like the crackle of a campfire and the smell of roasting marshmallows. Enjoy fall's warm weather with an overnight adventure at one of the many state parks and campgrounds just outside of Austin. Pick the perfect spot to spend the night at Emma Long Metropolitan Park, McKinney Falls State Park, Inks Lake State Park or Pedernales Falls State Park.
8. Bring the kids to Boo at the Zoo.
Unleash your little ones at the Austin Zoo, where they can enjoy Boo at the Zoo on Friday and Saturday nights from October 14-29. Enjoy a spooky train ride, an entertaining puppet show and a haunted mansion, in addition to meeting the animal residents. Tickets are limited, so reserve your spot in advance!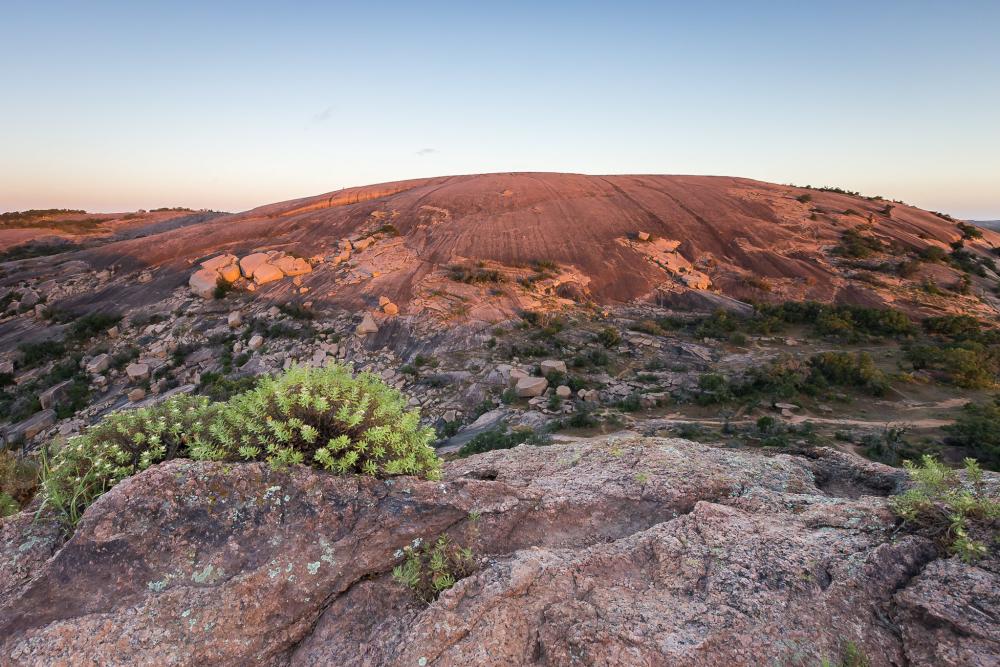 Enchanted Rock. Courtesy of Pierce Ingram.
9. Work up a sweat on a hiking trail.
From downtown Austin to the nearby Texas Hill Country, you'll find no shortage of places to explore on foot. Take in scenic city views along the Ann and Roy Butler Hike-and-Bike Trail that winds along the shores of Lady Bird Lake. Or, head out of the city limits to visit the unique landscape at Westcave Outdoor Discovery Center (reservations required), follow the nature trails at Balcones Canyonlands National Wildlife Refuge near Marble Falls or hike the granite batholith at Enchanted Rock State Natural Area near Fredericksburg.
10. Get spooked at a haunted house.
From brain-hungry zombies to bloodthirsty monsters, come face-to-face with the scariest creatures from your worst nightmares at House of Torment haunted house (fall season dates TBA). Or, travel an hour outside of Austin to Scream Hollow Wicked Halloween Park, where you can brave four different haunted houses and the only vampire bar in Texas (opening on September 16).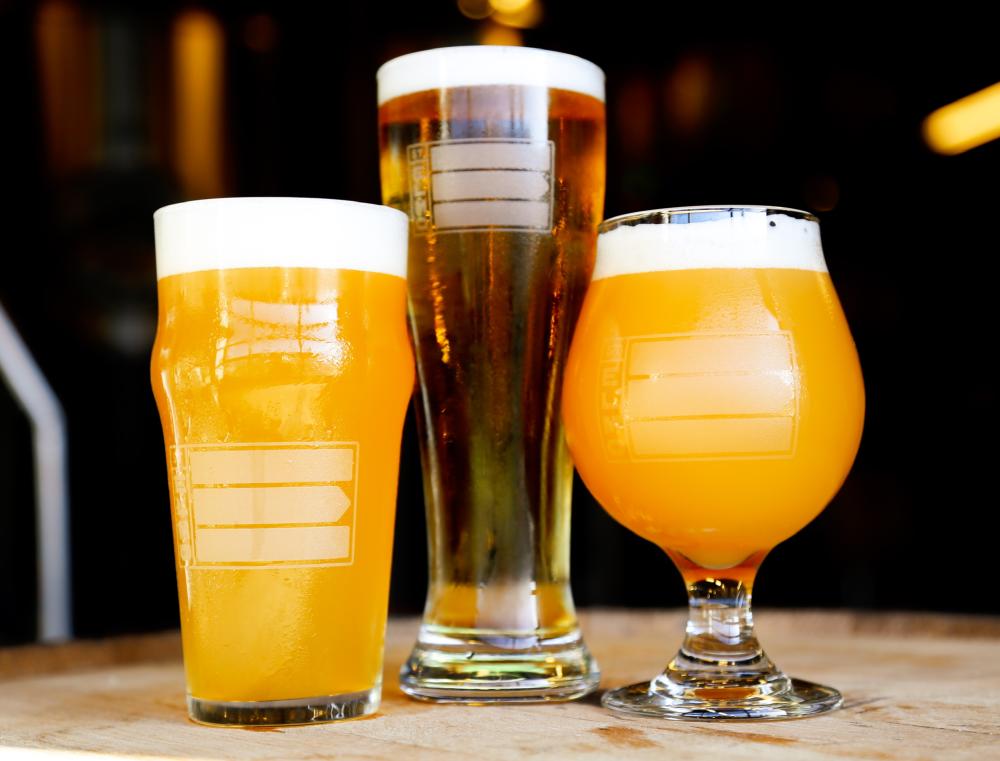 Courtesy of St. Elmo Brewing Co.
11. Sip a seasonal beer at a craft brewery.
Savor the suds of the season at one of Austin's many craft breweries. Enjoy the Wiesn Festbier, from Celis Brewery or Austin Beerworks' seasonal Montecore, a balanced Oktoberfest featuring all German malts, hops and yeasts.
12. Dare yourself to explore the spooky trails at Pioneer Farms.
Venture onto the haunted trails with a Night Owl Ghost Tour at historic Pioneer Farms and find funny and super-scary surprises along the way. The award-winning Night Owl Podcast hosts this paranormal adventure, exploring haunted sites and trails at Pioneer Farms. Come early and bring the family to enjoy historically-based workshops, a general store and plenty of socially distant fun.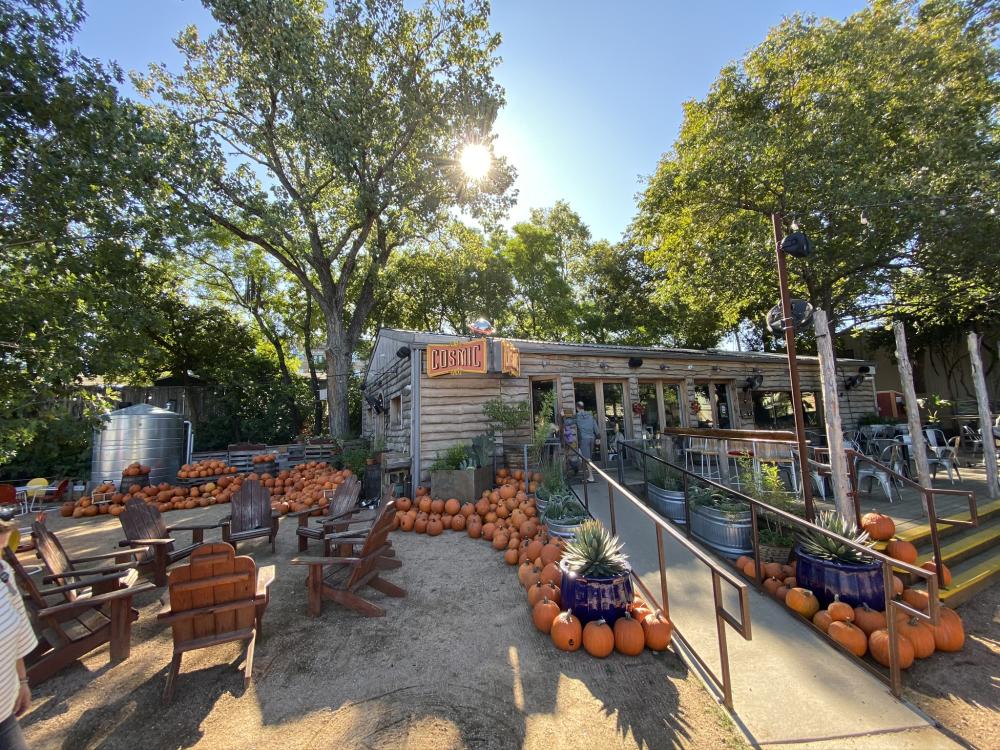 Cosmic Coffee + Beer. Credit Patrick Dean.
13. Eat outdoors on the nearest patio.
In Texas, autumn days equate to gorgeously sunny weather (which, if you ask us, means prime time for patio sitting). Try something from each food truck on the decked out garden at Cosmic Coffee and Beer, dine on German-inspired dishes on the expansive, dog-friendly patio at Scholz Garten, and enjoy brunch in the sprawling beer garden at one of three Easy Tiger Bake Shop & Beer Garden locations.
14. Immerse yourself in the colorful celebration of Dias de los Muertos.
From late October through early November, celebrate Dias de los Muertos in Austin, the Mexican holiday that remembers loved ones who have passed. Several different virtual and in-person cultural events throughout the month will feature music performances, art exhibits and more. Be sure to attend the 39th annual Day of the Dead Exhibition, dates TBA.
15. Dig in to all things pumpkin.
Forget pumpkin spice lattes. In Austin, we take the seasonal splendor up a notch for pumpkin lovers. For breakfast, indulge in the famous pumpkin pancakes at Kerbey Lane Cafe (pro tip: they also offer vegan and gluten-free options!) or try a pumpkin muffin with your latte from Stinson's Bistro. At lunch, indulge in pumpkin empanadas from La Mexicana Bakery. For dinner, try the homemade pumpkin ravioli at Andiamo Ristorante. And don't forget dessert, a flight of sweet treats from Sugar Mama's Bakeshop including cupcakes, breads and pumpkin pie.
16. Attend the Texas Book Festival.
The annual Texas Book Festival (November 5-6) is going hybrid this year with both in-person and virtual components. One of the top (and free!) annual in-person events is the Lit Crawl, featuring programming in Austin's Six Square District and across East Austin.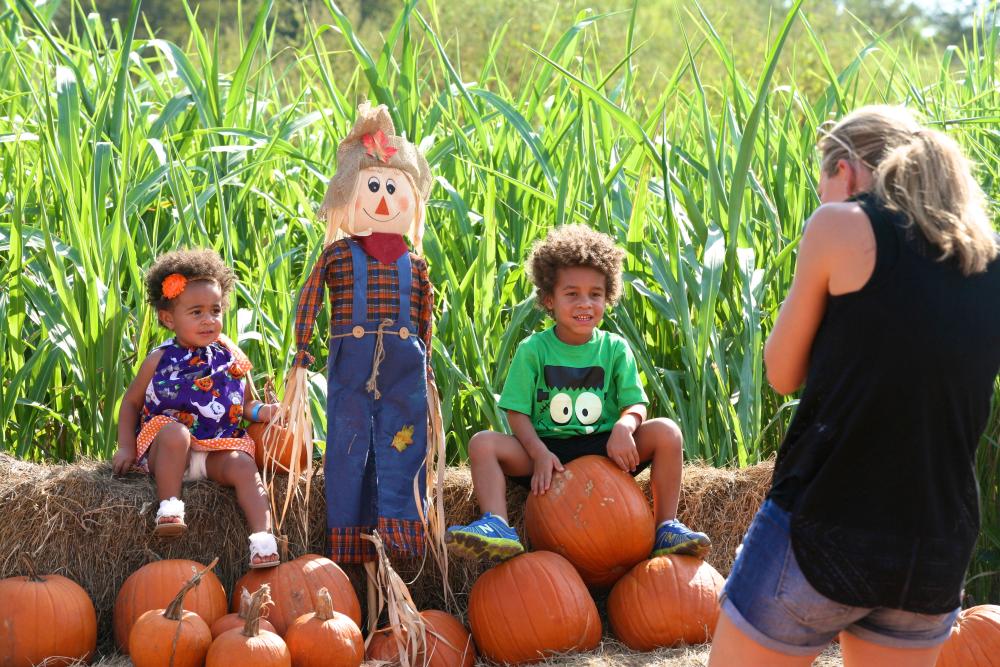 Fall Pumpkin Patch. Credit Barton Hill Farms.
17. Try a refreshing cider.
Sure, you could always go to a nearby U-pick farm to enjoy the bounty of apple harvest season. Or, you could enjoy the grown-up version with a glass of hard cider made from freshly pressed apples. Sample the full-bodied, peppery Broken Crown honey mead at Meridian Hive Meadery. Or stop by Austin Eastciders restaurant and tap room to try the limited-edition Spiced cider, laced with cinnamon, cardamom and cloves (available later in the season). Drop in at Fairweather Cider Co. for uniquely infused ciders like their "Tejano Dreams" made with anaheim chiles for a ton of flavor without the spice. To round out the mix, Texas Keeper Cider is a small-batch cidery owned and operated by born and raised Austinites in South Austin. Stop by their Hill Country taproom for a crisp drink and lovely views.
18. Tune in to the spooky Halloween Children's Concert by Austin Symphony.
On October 23, 2022, tune in with the kids for a frightfully fun, online symphonic performance with the annual Halloween Children's Concert. Bonus points if your kiddos watch in costume!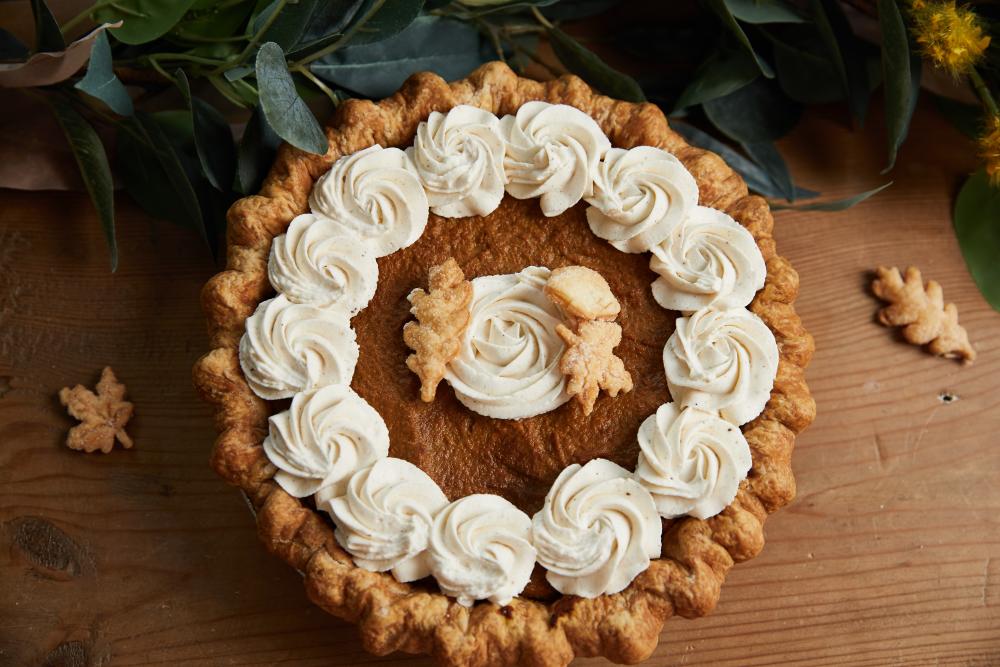 Tiny Pies. Credit Annie Ray Photography.
19. Spoon into a slice of pie.
Enjoy end-of-summer fruits and the spices of fall with a slice of homemade pie. Try the made-from-scratch pumpkin pie at Quack's 43rd Street Bakery. Or treat yourself to an adorable mini apple or pumpkin chai pie from Tiny Pies.
20. Take off on a Texas Hill Country wine trail.
Spend a day wandering around sprawling vineyards and sipping your way through a lineup of award-winning wines when you go on a limited capacity excursion with Discover Texas Wine Tours. Make your way through the wine trails of Marble Falls, Dripping Springs or Fredericksburg.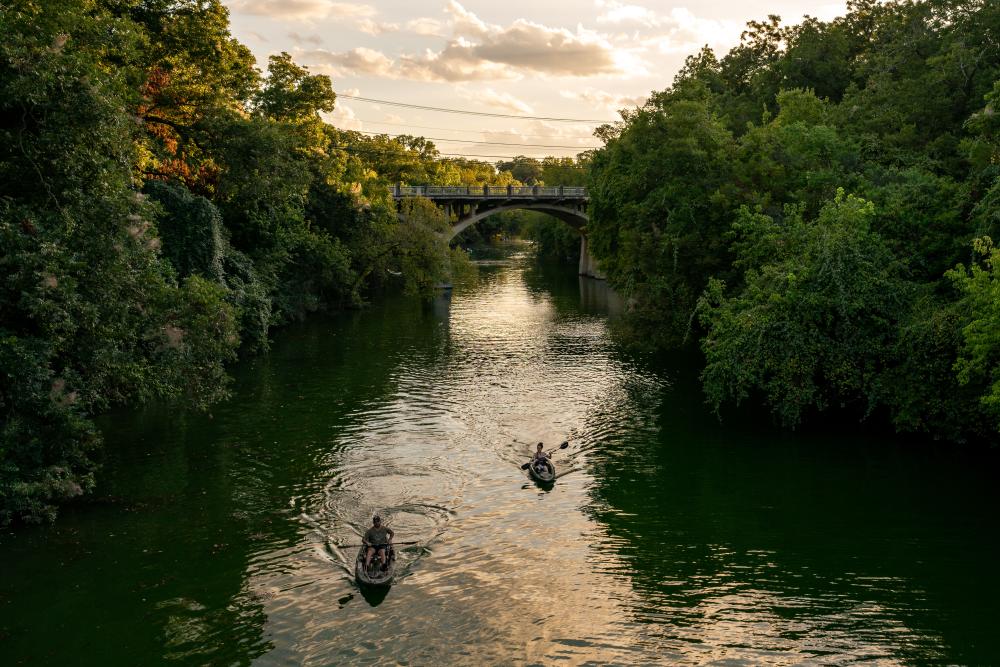 Kayakers on Lady Bird Lake. Credit Ryan Kyte.
21. Get out on the water.
Make the most of Austin's glorious fall weather with an excursion on the glittering waters of its lakes. It's easy to get out on the water at Lady Bird Lake, where you can rent stand-up paddleboards, kayaks and canoes from the Rowing Dock, Greenbelt Outdoors, Texas Rowing Center and more. For an insider's perspective, take a guided kayak or stand-up paddleboard tour of downtown Austin with Austin City Kayak Tours.
22. Get in the spirit at a UT football game and tailgating party.
It's hard not to get in the team spirit when you're in the midst of Texas Longhorn country. Don your burnt orange and white, and cheer on the University of Texas at Austin football team from your favorite sports bar patio. Favorites include Jack & Ginger's Irish pub in Domain NORTHSIDE, where you can relax and catch hours of football every weekend. Or, put your horns up from the shores of Lake Austin at Abel's on the Lake. Chow down on Texas-style brunch items and flutes of mimosas as TVs blast football games in the background.