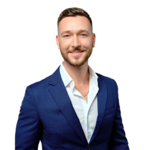 Shawn Harper
REALTOR®
A little bit about me...
After spending the last 15 years in property management and managing an extensive portfolio of short-term rentals, Shawn is excited to share his expertise in the housing and rental market with his clients. He has a passion for helping people, listening to/understanding their needs, and is dedicated to delivering exceptional service.
As a homeowner in Austin, Shawn understands the challenges that come with this fast-paced market. He is here to help you navigate the complexities of the home-finding process and negotiations.
In his spare time, he enjoys urban farming, spending time with his friends/pets, playing guitar or working on home projects.