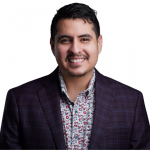 Efrain De Leon
Realtor®
A little bit about me...
Banking, private non-profits, and community engagement have all led to Texas Real Estate with Efrain. Efrain's Servant Leadership business approach started more than 10 years ago, when Efrain was a Bank Representative with IBC Bank's International Department. After 4 years, Efrain shifted to a community focused path in which he became a Vocational Coordinator for a non-profit residential youth care facility. All of the skills he's learned have impacted his tailored approach for each client and transaction.
For Efrain, Texas Real Estate is one of the greatest markets in the entire world but for many, obtaining a home or commercial space, may seem to be too daunting, but with Efrain's real estate skills and knowledge, he is able to let clients experience the ease of investing in a home or commercial real estate.
Texas Real Estate with Efrain is a unique boutique brokerage experience that is personalized to your marketing, negotiating, and financial needs, not the other way around! Reach out to Efrain for the premium Texas way of doing real estate with class, honesty, and hospitality. As we have started to say in South Texas, Shoot for the Moon, even if you miss, you might land on Mars! Reach Out Today!